This custom pet portrait features Charlie. Charlie is an upright, traditional old soul. He doesn't understand pups these days. (Hooligans, all of them!) Moreover, he likes his food and chew toys in their proper place. Furthermore, this cap was specifically chosen by his human, who understands his classy temperament.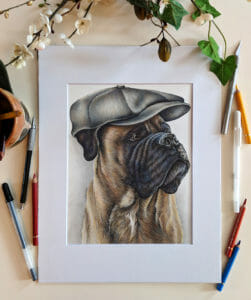 This custom pet portrait was based on a photo sent from my customer. Likewise, he specially requested a cap be placed on Charlie's head. This accessory is in line with his personality and style. Another change from the original photo is that I lightened up the features a bit. Now they are more visible. I kept his dark coloring around the nose and mouth. But I added dramatic highlights to the custom pet portrait.
************
Want to order a custom pet portrait? It's Easy:
First, you pick the drawing size you want (see available sizes HERE).
Then email a photo of your pet to me at ArtistryByLisaMarie@hotmail.com. Additionally, remember to tell me what size drawing you want and if you prefer color or black and white.
I will create an invoice or your order and a preliminary sketch of your custom drawing. Of course, this is a wonderful chance for you to get an idea of the drawing before I start the final portrait.
Sit back and relax while your memories are transformed from photo to portrait!
Every fine art drawing from my studio is inspired by photos sent by my customers. Uniquely, the techniques used in each portrait were also used by the Renaissance masters in Italy. While earning my Master's Degree in Art History, of course I studied the drafting techniques of many great artists. These skills include measuring proportions and composing compelling compositions. Moreover, I learned to layering textures and shadows. Moreover, I use all the craftsmanship learned from my studies.
Order your custom portrait today! Simply EMAIL ME a photo and I do the rest! You may see all available drawing sizes/prices HERE. Studio booked months in advance! Order your custom art TODAY!
This work by Artistry By Lisa Marie is licensed under a Creative Commons Attribution-NonCommercial-NoDerivatives 4.0 International License.
Order your custom pencil portrait today! See sizes & Prices HERE.
Email Me: ArtistryByLisaMarie@hotmail.com
SEE: Instagram – ArtistryByLisaMarie
SHARE: Facebook.com/ArtistryByLisaMarie
SUBSCRIBE: ArtistryByLisaMarie.com
Pet Portrait, Pet Portrait Artist, Custom Pet Portrait, Pet Portrait From Photo, Pet Art
---
I am a professionally trained portrait artist, well versed in the classical techniques of the Renaissance masters. My pencil portraits come in color or black and white. Whether you want a dog painting, cat painting (or even a painting of a person) – you send a photo, I do the rest!
All author posts